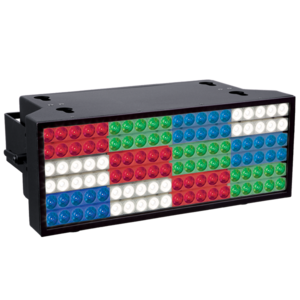 Power is everything, now in color!
Add colour into your blinding strobing sequences with the ColorStrobe to achieve dyed effects, white flashing with colourful backgrounds or continuous bright light output with coloured animations.
While the ColorStrobe is controllable, configurable and arrayable into stacks of multiple units, the ColorStrobe Lite is a single hanging fixture with reduced weight.
Super fast bursts of high-powered pulses can be adjusted in frequency, duration and intensity, optically harnessed from the 120x High Power RGBW multichips. Easy to rig individually or in multiples and easy to program, using direct segment control or the pre-defined macros.
The ColorStrobe has a splash proof housing that can temporarily be exposed to rain when installed on the front truss, used as a floodlight or a wall washer.