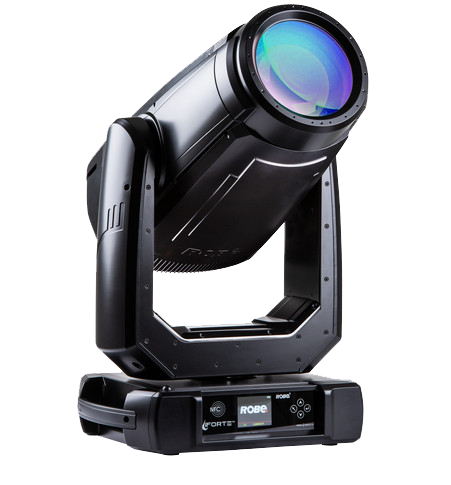 Even the mighty need the right protection! With unique game-changing patented technology, you can shift the power outside, rain or shine, dust, smoke and haze, with the iFORTE®!
The most powerful member of the Robe iSeries, the IP65-rated iFORTE® combines far-reaching output and feature-rich effects in a fully protected package, capable of handling all the challenges of being outdoors.
iFORTE® negates the traditional weight penalty associated with IP-rated fixtures being only 1.5 kg heavier than the indoor FORTE®. With its class-leading form factor, size and appearance, and all the features and identical performance of the indoor original, iFORTE® enables seamless integration with each other, even on the same truss if desired!
The ingenious ingress protection system has been specifically designed to allow standard maintenance and preparation procedures, such as TRANSFERABLE ENGINE exchange and gobo replacement without any additional tools, as gobo change or maintenance work can be done on-site.
The onboard RAINS™ (Robe Automatic Ingress Neutralization System) manages humidity, temperature and pressure control using an active monitoring system to automatically remove any moisture detected within the fixture and provides constant monitoring to ensure peak performance. iFORTE® automatically runs a self-test every time it senses a cover was removed and replaced. This self-test, taking no more than 3 minutes, provides an error message if covers were not replaced correctly or locking screws were incorrectly tightened (Patent pending).
Their lightweight magnesium alloy covers, with aluminium alloy structure, provide a dust-free environment for the optics, eliminating the need for frequent cleaning, routine maintenance, and UV damage to plastic parts.
To maintain consistently high lumen output, even with the rigours of outdoor performance, water, dirt, dust, haze, and smoke are repelled from the front lens with our unique parCoat™ hydrophobic, oleophobic resistant coating. Furthermore, it allows easy removal without scratching or damage.
By including NFC (Near-Field Communication) technology, you can access setup, diagnostic and performance features, even when the fixture is not powered, directly from your mobile device using the Robe Com app.
iFORTE's TE™ 1.000W iSE HP (High Performance) White LED TRANSFERABLE ENGINE generates the same, piercing 50.000 lumen fixture output. The identical 11:1 zoom optical system, with a 5.5° to 55° zoom range, provides all the flexibility you require.
Removing the need for distracting pre-use pan and tilt calibration movement, our patented MAPS™ (Motionless Absolute Positioning System) allows the fixture to fully calibrate while remaining static. Very useful when fixtures are located within confined spaces.
Our cutting-edge CMY colour mixing system provides beautifully smooth mixing and transitions. Combined with two colour wheels, CRI 80 and 90 filters (HP Engine), and a variable CTO from 3.000 – 6.700 K give iFORTE® total colour finesse.
With the patented Plano4™ four individual plane framing shutters, two fully indexable rotating gobo wheels, an animation wheel, two independent 6-facet prisms and two MagFrost 1° and 5° frosts, you have all the creative tools you need.
Keeping up with technological advances, we have incorporated Epass™ for maintaining network connectivity, and for television users, Cpulse™ is included for flicker-free management of HD and UHD camera systems.
iFORTE® is fully compatible with our industry-leading RoboSpot™ remote-controlled follow spot system.
iFORTE® – Robe reliability in all weathers.