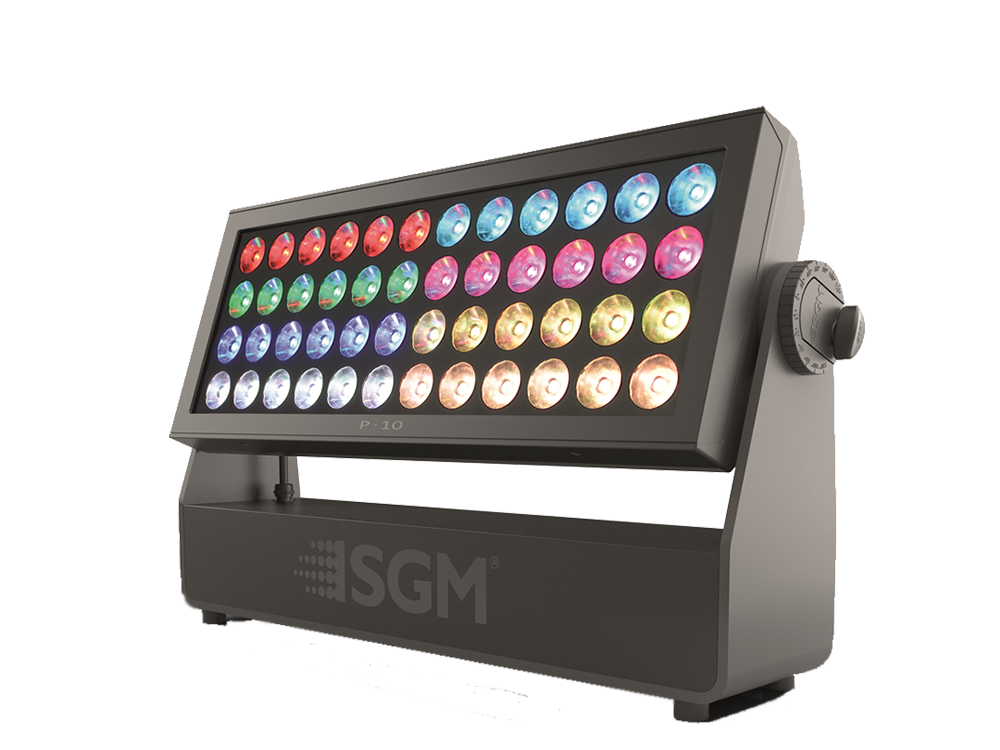 The SGM P-10 is a unique and extremely powerful all-in-one LED luminaire, ideal for stadiums, arenas, convention centers, high-rise office or hotel buildings, bridges, large format stage shows, sports, or any event that requires an ultra-bright and super-long throw luminaire. It carries the functionalities of a wash light, a strobe light, a flood light, a pixel light, and a direct-view blinder with a non-fading continuous output, making it the perfect multi-purpose LED fixture. It features a narrow native beam angle that can be modified through various optional magnetic and click-on accessory solutions such as holographic filters and barndoors.
LED Technology
This low-profile, rectangular, full color LED luminaire incorporates 48 high-power RGBW 24W LEDs, and delivers a staggering output of 40165 lumen. It features a superior dimming performance with velvet smooth fades and flicker-free operation. The LEDs expected lifetime is 50,000 hours.

Colors
The SGM P-10 delivers best-in-class optical color mixing. It maintains the same accurate factory color calibration of the P series and the avoidance of color shifts. The P-10 delivers superb color rendering, and like all SGM wash lights, it is designed to achieve, not only deep reds and warm pastels, but also blue saturates, bright magentas, and soft turquoises.

Optics
The 48 individual lenses of the P-10 deliver a native 10º beam angle with even distribution for long-throw applications. Its standard round and symmetrical beam can be manipulated with an optional set of magnetic holographic filters (19º, 45º, 63º/12º elliptical horizontal and 12º/63º elliptical vertical). Barndoors and an empty frame for custom filters are further available for optimum flexibility.
Full control via Studio Mode
The P-10 includes the powerful SGM DMX Studio Mode, expanding its capabilities through a number of advanced features. Select different dimming curves, choose your preferred RGB CTC, RGBW CTC, CMY, HSI or XY color mode, adjust fan speed to reduce noise, change the LED frequency rate, and increase or reduce the peaks of green in the white output. Learn more about the SGM Studio Mode by reviewing the DMX chart in the "Download" section.

IP rating
The durable IP65-rating of the P-10 luminaire ensures that the fixture is kept free of externally induced particles and liquids on internal optics and light sources, such as smoke fluid, dust, dirt, airborne pollution, and humidity. Thereby, the need to clean optics is eliminated and no internal corrosion will occur. It is ideal for outdoor applications, while being practically maintenance-free making it a sustainable and long-lasting choice for indoor events and installations as well.

Dehumidification
The internal built-in dehumidifier protects this fixture from moisture, pollution and any other factors that can generate corrosion. The patented SGM dehumidification not only removes humidity but also prevents oxidation and condensation, while a gore-tex membrane equalizes internal pressure to prevent leaks. Learn more about dehumidification

Photometrics
Engineered for any type of event, the P-10 luminaire helps to create staggering and intense high-power narrow effects over short throws, and extremely bright and even amounts of light over long distances with no unwanted artifacts. With the SGM P-10, it is possible to achieve bright beams, not only in white, but also in deep saturate colors. The P-10 also includes linear color temperature control from 2000K – 10000K.

Pixel mapping
For direct-view applications, the LEDs in the P-10 light fixture can be divided into eight individually controllable segments, generating wide-ranging color effects and pixel-mapping combinations for creative lighting designs. Each segment provides fast feedback, individual RGB control, and ultra-smooth dimming.

Powerful features
The P-10 luminaire also delivers many great additional features such as Plus / Minus Green control for fine tuning, a vast color filter emulation, Quick Color settings, different pixel and strobe pre-programmed macros and effects, and a super-fast strobe with duration and rate parameter adjustments. With added features of RDM capability and a Wireless DMX receiver, the P-10 is setting a new professional standard for production and arcitectural lighting needs.

Thermal management
To achieve optimum performance of the LEDs at all times, this bright and accurate luminaire is optimized to manage heat impact through SGM's unique thermal management technology. The technology consists of a uniquely designed body and heat sink, which ensures optimal cooling of the LED chips. Additionally, the special aluminum alloy and surface treatment ensures maximum heat dispersion while the fan-assisted cooling ensures optimal performance at any time and under any conditions (such as variable temperatures, limited airflows, confined installation spaces, etc.).
Like all SGM LED products, the P-10 consists of SGM's superior thermal management technology and tested under extreme hot and cold conditions, which ensures that the LEDs always operate within safe parameters. Learn more about SGM thermal management

Mounting options
Because of its integrated handle and included omega brackets, the SGM P-10 is easy to transport, to rig, and to focus. The P-10 comes with 3 x 2 ¼ turn locking points to allow the use of one or two clamps, enabling the fixture to be mounted in any position. The built-in safety wire eyelet in the base secures the unit when rigged.
Included SGM technologies

ThermalDriveTM
This thermal management techonology provides Advaced Temperature Control monitored via sensors and software, keeping optimal LED junction temperatures, and ensuring maximum reliability for long-term use. The ThermalDriveTM system includes cutting-edge heat removal via passive thermal tecniques and active forced-air cooling (depending on the product), specifically designed to maintain LED efficiency while extending fixture's lifetime.

TruColorTM
SGM uses Full Range Calibration in all LED fixtures over CIE space and black body curve, measured via spectrometer and SGM Illumination Lab software. To provide the best user experience, SGM's Color Match procedure ensures accurate wavelength reproduction within the product range via colored LEDs, dichroic filters, or CMY mixing (depending on the product); all of them specified to match the SGM color palette.

DryTechTM
SGM's integrated patented Dehumidification process eliminates humidity and breaks down corrosive molecules deriving from polluted air to avoid destructive corrosion. Inbuilt dehumidifiers constantly remove trapped hydrogen from inside of the lighting fixture in a solid estate electrolytic process with no moving parts. The DryTechTM procedure is also based on a Ingress Protection rating of 65 or 66 (depending on the fixture), intended as a full protection against dust and other particles, while ensuring protection against direct water jets.